Listen Anytime


Don't worry if you missed a live broadcast. There are lots of ways to keep up to date. You can subscribe to our show on iTunes, you can listen later through Blog Talk Radio, you can follow us on Facebook, or check back to our website as an archive page will be coming soon!

There are also lots of ways to listen live. You can listen online on Blog Talk Radio, every Friday at 6pm (Pacific time) or you can call in to listen on the phone at (657) 383-0525.
Powered by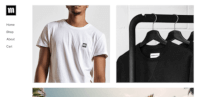 Create your own unique website with customizable templates.